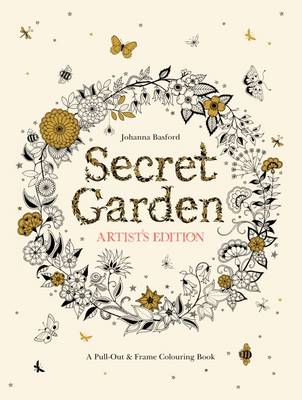 Summary:
From the artist and the publisher that brought you the hugely successful Secret Garden and Enchanted Forest – this special artist's edition features 20 beautiful, pull out art prints for colouring in. Colouring fans of all ages will enjoy immersing themselves in a selection of the most popular artworks from the original book, now presented in a new, large-scale format for maximum colouring enjoyment. Each detailed illustration is printed on high-quality card and can be removed easily for framing or craft projects.
Review:
I received this book from Laurence King Publishing, in return of a honest review. All opinions stated are of my own 🙂
How many of you loved to colour as a child? *Newsflash* artist and illustrator Johanna Basford has now made it acceptable for adults and teens to enjoy such a hobby. These adult colouring books have taken the world by storm with millions already sold out worldwide.
In regards to the illustrations, they are all extremely pretty and such a delight to colour. Honestly I literally spent like a whole day trying to create an artistic masterpiece *which is ironic considering that I can't draw to save my life* but that's what I love about this book… You don't have to be an artist to enjoy it, you just have to be creative and know how to colour *within the lines guys haha*
The second one isn't actually my attempt but I love how this person colored it, so just had to put it in my review.
So would I recommend this book to anyone? Hell Yes, we all need a bit of colour in our lives. Especially now that the weather has become so dull. 
Rating? 5*